Since its opening in 1983, Ottawa's "Transitway" (busway) has become North America's pre-eminent Poster Child of so-called "Bus Rapid Transit" (BRT). Ottawa's complete "BRT" system consists of 16.0 miles of dedicated "transitways" (busways), with 26 stations; 1.2 route-miles of CBD reserved lanes (on two parallel streets); 2.0 miles of mixed-traffic running (Ottawa River Parkway); and 6.6 miles of freeway shoulder lanes – totalling 25.8 route-miles. (See the article Ottawa's BRT "Transitway": Modern Miracle or Mega-Mirage? in the Myths section of Light Rail Now.)
Operated by Ottawa's OC Transpo (public transport agency), the Ottawa citywide system's 900-bus fleet currently transports a daily average of 328,000 rider-trips, and the Transitway itself is the most extensive such system in North America.
But, while clearly capable of moving large numbers of riders, Ottawa's "BRT" system (see photo at right) has also been experiencing mounting problems. Although areawide ridership on the total system has been relatively high – even before the Transitway – passengers have never seemed to have taken to Transitway buses the way they have swarmed onto new light rail transit (LRT) services such as those in Denver, Dallas, St. Louis, and Portland. in fact, OC Transpo's total ridership dropped significantly upon startup of the Transitway, and has only recently begun to return to pre-Transitway levels with normal ridership growth.
Another major problem problem focus is both peak-hour passenger crowding and bus vehicle congestion in downtown Ottawa, as batallions of "express" buses contribute to the city's traffic chaos as they use the curbside "bus-only" reserved lanes that were the supposedly "low cost" alternative to LRT tracks
As E. L. Tennyson points out in his commentary Myth vs. Reality: Has Ottawa "BRT" Provided Light Rail-Type Service at Much Lower Cost?,
the busway system has consistently been limited by the capacity of downtown streets to absorb the high volumes of bus traffic resulting from attempting to carry large numbers of passengers with relatively lower-capacity vehicles. Bus traffic at this density may actually work against quality urban development. Furthermore, lacking adequate station facilities, Transitway passengers crowd on sidewalks, impeding pedestrian movement and blocking store entrances.
These weaknesses of total reliance on buses and the "BRT" system, plus community pressure for rail transit, led OC Transpo in the fall of 2001 to launch a relatively short diesel multiple-unit (DMU) light railway service connecting two key stations on the rather serpentine Transitway system, with a middle station serving Ottawa's Carleton University. The relatively low-cost service has proved quite a success, with ridership growing to some 6,000 boardings per day. This success has encouraged plans for upgrading and expanding the system.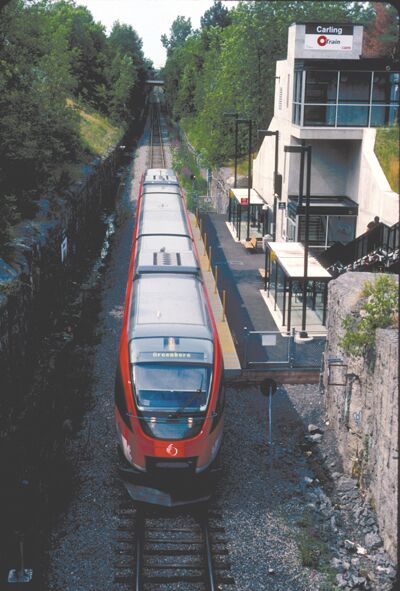 Ottawa's successful experiment with a 5-mile-long diesel-propelled light railway has won support for a systemwide electric LRT system.
For about the past 15 years, Ottawa has been featured as the pre-eminent North America model for busways and "BRT", supposedly demonstrating that buses can emulate the capacity, speed, comfort, and other features of rail transit. Now, that argument seems to have come full circle: Motivated by the success of the "experimental" DMU light railway, and persistent limitations of the busway-"BRT" attempt at "rubber-tired rapid transit", OC Transpo has unveiled a new metro area plan which at long last includes LRT, which will play an increasingly important role in public transport mobility.
For further details, we reprint below an article from the 17 March 2003 edition of Destination: Freedom, the online newsletterof the National Corridors initiative (NCI). The NCI is working energetically to promote both intercity rail passenger service and urban rail transit, and we highly recommend the NCI website as an excellent source of information and timely news:
---
http://www.nationalcorridors.org/df/df03172003.shtml#Ottawa
Destination:Freedom
The Newsletter of the National Corridors initiative, Inc.
Vol. 4 No. 11, March 17, 2003
Ottawa council okays light-rail overhaul plan
Ottawa, Ontario city councilors unanimously passed a plan to significantly overhaul the city's urban transit system February 26.
The Canadian Broadcasting Corp. reported the new plan would build dual-line light rail across the city, and will include expanding electrified light rail and bus Transitway services as far as Barrhaven and Cumberland, over a period of 20 years, and at a cost of $150 million per year.
The plan is to make the entire line dual track and run it right through the downtown.
"We now have the golden opportunity of implementing, at a time of our growth when it's the [most] prudent to do so," says Ned Lathrop, the general manager in charge of the city's rapid transit plan.
Calgary's 18-mile LRT system attracts 188,000 rider-trips a day – one of the highest riderships in North America – and carries them at lower unit cost than Ottawa's all-bus system.
Lathrop says the plan is the most effective way to move a population that's expected to grow to more than 1 million over the next 20 years - but the question of funding the plan remains.
The federal government has put $3 billion on the table over the next decade for projects like Ottawa's rapid transit system, but only $100 million is up for grabs this year, and Ottawa will be competing with every other city in Canada for that money.
The city will use the plan as a priority when applying for infrastructure money from provincial and federal governments. Such emphasis means roads will have to take a back seat, said Mayor Bob Chiarelli.
"In the course of the last two years most of our priority projects have been roads. Now we're saying it's time to turn around and put the priority on transit," the mayor said.
The city could also try to pay for a portion of the transit plan through loans, however, city hall is moving to a pay-as-you- go approach to capital spending.
Private-public partnerships are also a possibility, and are regarded as attractive in the city's draft official plan.
Pushing ahead with the transit plan doesn't mean the city can forget about the needs of people in cars, said Chiarelli.
"I think it indicates a dedication to public transit, but it's not to the elimination of new roads," he added, noting, "What's unclear is whether there will be enough money available from senior levels of government to effectively do both. I think it indicates a dedication to public transit, but it's not to the elimination of new roads."
Still unclear is whether there will be enough money available from senior levels of government to effectively do both.