Denver's phenomenal success with light rail transit (LRT) has made the system a national model and object of emulation. As previous Light Rail Now! articles have reported, LRT has not only exceeded its ridership projections, but has had a significant impact on mobility congestion in the major Southwest line corridor parallelling Santa Fe Drive.
Steady growth, rising ridership
Since the initial 5.3-mile (8.5-km) line, with 15 stations, was installed in 1994, the system has grown steadily. This starter segment features in-street running through downtown Denver from the 30th and Downing Station to Colfax at Auraria Station. The Southwest Corridor extension, 8.7 miles (14.0 km), with 5 stations, opened in the summer of 2000, running from the southern terminus (i-25/Broadway Station southwest) along Santa Fe Drive to Littleton at Mineral Road. Then the Central Platte Valley Corridor Extension, 1.8 miles (2.9 km) long, with 4 stations, was opened in 2002, extending from the Central Corridor northward to Denver Union Station. (See system map, below.)
[Transit Denver website, 2004/10/29]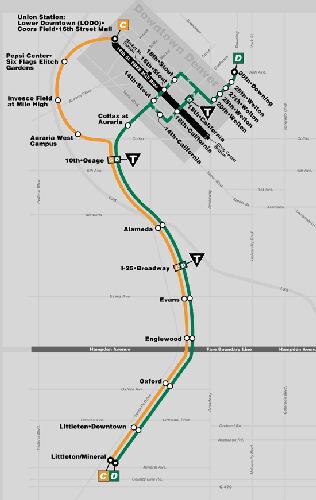 And the Denver-area public have flocked aboard the trains by the thousands. According to the American Public Transportation Association, the most recently reported average weekday ridership for Denver's LRT services is 34,300 rider-trips per day – about 34% higher than originally forecast.
[Transit Denver website, 2004/10/29; APTA Transit Ridership Report, Fourth Quarter 2003]
T-REX expansion project
Positive results like those described above have encouraged planners with the transit agency – the Regional Transportation District (RTD) – to embark on a vigorous expansion with the T-REX (Transportation Expansion) Project, a $1.67 billion combined freeway and LRT project along the metro area's southeast corridor, served by interstates 25 and 225. T-REX is a five-year project to add 19 miles of LRT and improve 17 miles of highway through southeast Denver and its suburban communities of Aurora, Greenwood Village, Centennial, and Lone Tree. (See map, below.)
T-REX is adding 19 miles of double-tracked LRT line connecting to the existing system at Broadway in Denver and extending along the west side of I-25 to Lincoln Avenue in Douglas County and in the median of I-225 from I-25 to Parker Road in Aurora. The project will construct 13 stations with park-and-ride facilities at 12 of the stations. it will also add 34 more light rail vehicles to RTD's fleet. in addition, a new light rail maintenance facility will be constructed in the suburb of Englewood. LRT service along the Southeast Corridor is expected to begin in late 2006.
FasTracks – Mega-expansion plan
Similarly, LRT's successes have helped drive yet another major rail transit expansion effort – a critical ballot initiative coming before voters on November 2nd. The FasTracks plan (see map, below) is the Regional Transportation District's $4.7 billion initiative to build at least six new rail lines (both LRT and regional rail) in the Denver area over the next 12 years. Described by the Denver Post as "one of the most ambitious public transportation expansion programs ever undertaken in the country" (16 October 2004), FasTracks would provide:
· 119 miles of new light rail and commuter rail
· 18 miles of "bus rapid transit" (Quality Bus) service
· 21,000 new parking spaces at rail and bus stations
· Expanded bus service in all areas.
To pay for the transit plan, FasTracks voters are being asked to approve an increase in RTD's sales tax to a full 1 percent from the current 0.6 percent. The tax hike would amount to an extra 4 cents on each $10 purchase.
[Denver Post, 16 October 2004]
Clustering development, reducing travel needs
Apparently FasTracks, with its massive expansion of transit, would produce a larger-than-expected reduction in motor vehicle miles traveled, because it would promote the clustering of metro Denver residential development into dozens of "village centers" throughout the area, according to official planning projections.
[Denver Post, 16 October 2004]
FasTracks backers are citing statistics from the Denver Regional Council of Governments (DRCOG) which project the growth of at least 31 small urban centers, each within one-half mile of a FasTracks rail station. The refocusing of regional growth into these centers, promoted by the FasTracks plan, is expected to lead to 2.5 million fewer vehicle-miles traveled in the Denver area by 2025. That's five times the motor vehicle travel savings previously predicted in a separate DRCOG review of the FasTracks plan earlier this year. The DRCOG review looked more narrowly at the reduction in motor vehicle trips that would accompany construction of new FasTracks rail lines.
[Denver Post, 16 October 2004]
Pro-FasTracks organizations analyzed the DRCOG data by looking more broadly at the impact of clustered urban centers around rail stops in reducing vehicle-miles travelled. As many as 51 of the 57 rail stations that would be constructed as part of FasTracks have the potential for mixed-use transit-oriented development, according to the analysis. "These stations become urban centers where people do not have to drive" said Rich McClintock, program director of Livable Communities, one of the pro-FasTracks groups.
[Denver Post, 16 October 2004]
Relief for corridor mobility congestion
Rail opponents routinely compare the ridership on rail lines to some mammoth total travel measure – countywide trips, multi-county trips, regional trips – in order to "demonstrate" a minuscule percentage for the rail service. (Similarly, the entire transit system ridership is often subjected to this pointless comparison.) By this same methodology, any major new freeway, bridge, tunnel, or other highway facility could be branded as a waste of its investment because the number of motor vehicle trips carried is actually a tiny percentage of the areawide total.
What really matters, of course, is the rail line's impact on traffic in the corridor – the "market" or catchment area where it actually runs. And, on this basis, Denver's LRT system has exhibited spectacular performance, attracting significant proportions of trips within the corridors served, and significantly alleviating mobility congestion.
Currently, within the southwest light rail line corridor, 19% of all peakhour trips use transit. A study by Light Rail Progress, reported in an article on LRN, indicated that, in this same corridor, LRT was attracting on average approximately 30% of passenger travel in the highest peak hour and in the peak direction.
[FasTracks Yes! website, 2004/10/19; Light Rail Now!]
LRT service is alleviating mobility congestion in Santa Fe Drive travel corridor





When construction of the T-REX southeast rail line is finished in 2006, 38,000 rider-trips per day are projected to be made on transit in that corridor. By 2025, with FasTracks, 22% of peakhour trips in the nine FasTracks corridors are expected to be made on transit - amounting to a significant number of vehicles taken off the crowded street and highway system ... vehicles which won't be competing for increasingly scarce parking. Moreover, RTD uses very conservative ridership projections. The three existing light rail lines are carrying 40% more passenger-trips than were originally estimated.
[FasTracks Yes! website, 2004/10/19]

For more information on the FasTracks program, contact:

http://www.fastracks.org/truth.cfm

NOTE: Much of this report has been adapted from material disseminated by the Public Transport Progress news distribution list.



Return to Major Rail Transit initiatives Face Vote on Nov. 2nd



Light Rail Now! website
Updated 2004/10/30