Note: Tucson's light rail/mobility plan, referred to in this article, was defeated by voters on 4 November 2003. For more details, see Nov. 4th Election Result: Major Net Victory for US Rail Transit.

As we note in our report Tucson: Grassroots Campaign Sparks Nov. 4th Vote on Light Rail + Other Mobility Options, on this upcoming November 4th (2003), Tucson, Arizona voters face the opportunity to vote on Propositions 200 and 201, which would "commit Tucson to an alternative mobility system of light rail transit (LRT), dramatic bus service improvements, pedestrian and bicycle infrastructural upgrades, and other ambitious measures to provide Tucsonans more and better options in how they get around the city."

A number of major Tucson civic leaders and institutions have come out in favor of this plan, and for a Yes vote on Propositions 200 and 201 – among them, the daily Tucson Citizen newspaper. The following is the paper's editorial endorsement.
---
http://www.tucsoncitizen.com/index.php?page=opinion&story_id=100703b4_edits
Tucson Citizen
Tuesday, October 7, 2003
Editorial
Our Opinion: 'Yes' on plan that includes light rail line
Yes, we wish a comprehensive transportation plan would be developed for the entire Tucson metropolitan area – a plan that would cross jurisdictional boundaries and be funded regionally.
That's something that many Tucsonans have been wanting for a long time and it's not close to happening. It would take the intervention of the Legislature for a regional transportation authority to be formed, and that's an iffy proposition.
In the meantime, we cannot sit in traffic and wait for a perfect solution to materialize. It's time to stop saying "no." it's time to get to work.
Propositions 200 and 201 on the city's Nov. 4 General Election ballot are comprehensive and well thought-out solutions to Tucson's transportation mess. Passage will get us moving, and in the right direction.
Proposition 200 provides a dedicated funding source for a transportation plan. Proposition 201 is that plan. Voters should support them both.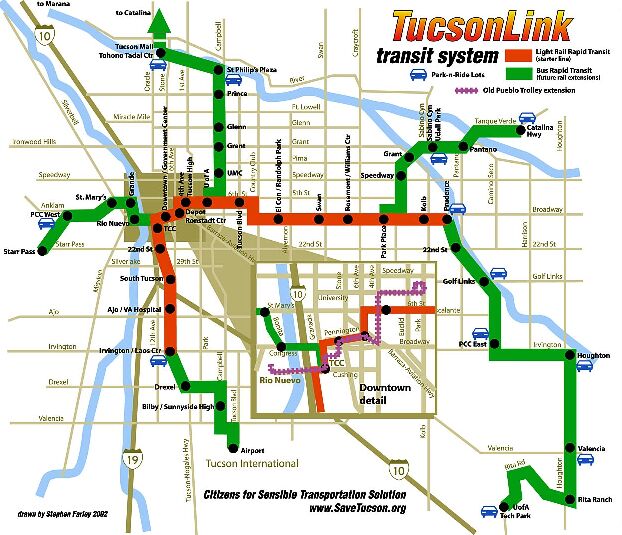 Light rail (red) and Quality Bus ("BRT", green) systems, together with extensive regular bus routes, would permeate Tucson, providing vastly improve access between origins and destinations throughout the city.
[Map: CFASTS]





Some, most notably opponents, have called this a "light rail plan." And while it does include light rail, that shorthand description sells the plan short. Light rail is a relatively minor portion of a proposal that is both visionary and inclusive.

Sales and construction taxes would rise

Proposition 200 contains two funding sources: an increase in the city sales tax and an increase in the construction tax. The sales tax increase of 0.3 of a cent per dollar would add 3 cents to each $10 purchase, maintaining existing exemptions on food, medications and services. The construction tax increase would add about $390 to the cost of a $150,000 home.

The two would raise about $50.5 million per year for 20 years. The largest share would go for expanding the bus system, with smaller amounts for a 13-mile light rail line, to repair neighborhood streets and to build new sidewalks and bike lanes.

But most of the opposition has been directed at the light rail component. Tucson is not ready for it and it is far too expensive, opponents wrongly claim.

Anything we do will be expensive. Light rail will cost at least $30 million per mile. But buying and tearing down homes and businesses to widen streets is detrimental to a healthy city. And it is expensive. The city recently spent almost $10 million to add two lanes to a half-mile stretch of North Campbell Avenue.

If not light rail, what? Voters last year rejected the city's car-intensive transportation plan. And opponents of this plan have failed to propose an alternative, other than continuing to widen streets.

Phoenix has embraced light rail

More than a decade ago, Phoenix voters felt building more roads was the answer, so they OK'd a half-cent sales tax to build more than 150 miles of freeways. They rejected plans including light rail in 1989, 1994 and 1997. But in 2000, when all the road construction hadn't made a big difference in congestion, Phoenicians OK'd a 24-mile light rail line. Planning is under way.

Light rail has the ability to attract new transit riders. That is crucial because many people now riding Sun Tran are low-income residents with no alternative.

The transportation plan on the November ballot is a balanced, forward-thinking proposal that positions Tucson well for growth. The Tucson Citizen endorses passage of Propositions 200 and 201.

Light Rail Now! website
Updated 2003/10/30